Steve's note: If you're looking for investment advice today in DailyWealth, you're out of luck. I'm sharing something much better… something that could change your life…
It's the perfect excuse to get out of the cold and into your board shorts this winter…
Join me (and a couple world-champion surfers) for a few days this February… You can live your dream, improve your surfing (no experience required), talk about investing, and get a tan – in the middle of winter. What more can I offer you?
Stansberry Research's Managing Director of Content Sean Goldsmith and I have put together the trip of a lifetime… the Stansberry Surf Escape. Sean will tell you all about it…
I got to live out a dream of mine this summer…
I took 10 days off and flew to Los Angeles. I wanted to learn how to surf. I have a goal of joining a group of my friends for their annual surf trip in Indonesia in 2018. And I need a lot of practice before hitting those world-class waves…
Before I left, I called Steve – a surfing fanatic. I wanted to talk to him about which board I should buy for my voyage. He shipped one of his boards to LA for me as a gift. And, in his words, he "did me one better."
Steve called me back the next day to let me know his friend, Sean Poynter, a world-champion surfer, was going to be my instructor.
Having Sean teach me to surf is like hiring Michael Jordan to teach some kindergartners to play basketball… But of course, I accepted. To give you an idea of what I'm talking about, here's a picture of Sean at work…
For those 10 days, I lived the surfer life in California. My dad flew in from Georgia to spend time with us.
I rented a bungalow in Venice Beach… I even stayed in an Airstream trailer in Malibu for a few days.
But every morning, Sean and I got on the water. We'd drive through Malibu looking for the best waves, hopping from surf spot to surf spot. And Sean, displaying incredible patience, taught me to surf. After each morning riding waves, we would eat a huge breakfast on the Malibu Pier.
And by the end of the trip, not only did I make a new friend… but I was riding waves!
It really was the trip of a lifetime for me. I was totally unplugged, surfing with a world champ every morning and spending time with family and friends.
Frankly, you can't even pay for the experience I had in LA.
As you probably know, Porter and Steve are also avid surfers. They even spent some time (albeit a while ago) with another world-champion surfer, Kelly Slater…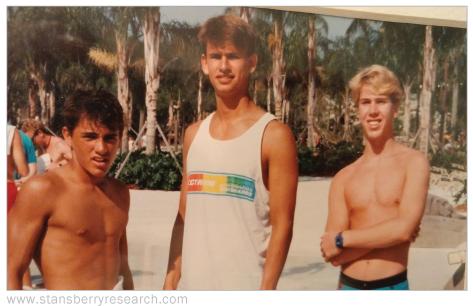 Left to right: Kelly Slater (the greatest surfer of all time), Steve Sjuggerud, and Porter Stansberry.
You probably didn't know… Stansberry Research may not exist if it wasn't for surfing. One reason Porter and Steve wanted to start working together is because they were surfing buddies.
And surfing also changes your world view. From Steve…
It's fantastic to see the world with a mission, as opposed to just as a tourist. Fiji, Hawaii, Australia, New Zealand… the list goes on and on. Instead of seeing the sights, you're challenging yourself in them. It's a whole 'nother thing.
While it's hard to get motivated to go to the gym just to stay in shape, it's easy when you have a mission to get ready for, whether it's a paddleboard race across the Hawaiian Islands (that Sean Poynter and I did together) or a surf trip where you don't want to be tired when the conditions are good…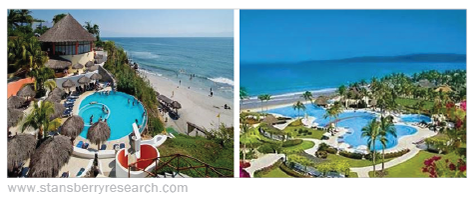 Steve, Sean, and I are hosting an investing and surfing retreat in Punta Mita, Mexico. We'll stay at the Royal Suites Punta de Mita by Palladium. Sean chose this location because the surf is great for all experience levels. And he has taught a surfing and stand-up paddle boarding ("SUP") retreat there before.
Sean is also bringing Ian Cairns to help instruct. Ian is a living legend and one of the most sought-after surf and SUP coaches in the world. He has more than 30 years of experience and has coached past and current world surf and SUP champions. (Ian is also a Stansberry Research subscriber!)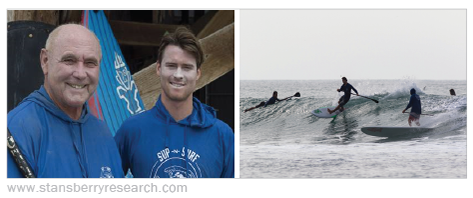 The trip will take place February 15-19. We'll get in the water up to two times a day to practice surfing and SUP. You can sign up for fishing, whale watching, snorkeling, and plenty of other water activities, too. Or you can just drink some margaritas and enjoy Mexico with your friends. In short, whatever you want to do, we'll make it happen.
We'll also have an investment curriculum – we've asked Steve and Porter to present one evening.
The cost will be approximately $6,500 for four full days in Mexico. That includes ground transportation, lodging, food, alcohol, world-class surf instruction, and activities each day. The final price will vary depending on attendance.
We're finalizing the details this week, but this trip is sure to sell out fast… If you'd like to attend, please
e-mail us
as soon as possible. And we'll reach out to you to confirm your attendance.
Since surfing with Sean in LA, I've jumped at every opportunity to get back in the water – surfing both Montauk and the New Jersey shore. I've already made some amazing new friends surfing. And it's a sport I'll continue for the rest of my life.
I hope you'll join us in Mexico for this event. You'll have fun regardless of your experience level – beginner to expert. After four days with Sean and Ian in the water, you'll no doubt leave a better surfer. And you may even learn something on the investment side of things, too…
See you in Mexico,
Sean Goldsmith
P.S. I (Steve) forgot to share my
"saving my life" weigh-in
with you yesterday… I'm 231 pounds this week, down one pound. My body fat reading was 26.5%, down from 27%. How did you do?
Source: DailyWealth