The Weekend Edition is pulled from the daily Stansberry Digest. The Digest comes free with a subscription to any of our premium products.
The latest data suggest the boom in auto sales has already peaked…
This week, U.S. automakers reported big declines in April sales. As Bloomberg reported…
Sales at all six of the biggest automakers in the U.S. dropped again in April, with Ford Motor and Honda Motor posting the steepest declines – about 7% each…
The annualized pace of U.S. auto sales, adjusted for seasonal trends, slowed to 16.9 million in April, missing analysts' average estimate for 17.1 million. A year ago, the selling rate was 17.4 million.
Industrywide deliveries are down 2.4% so far this year compared to the same period last year, according to researcher Autodata Corp. The four-month slump reinforces estimates for the U.S. auto market's first annual contraction since 2009, the year GM and Chrysler reorganized in bankruptcy court.
Auto sales have now surprised to the downside for four straight months after setting an all-time record in 2016.
Meanwhile, subprime auto loans are going bad at a frightening rate. As we noted in the March 23 Digest…
According to credit-ratings firm Fitch, delinquencies of 60 days or more on these loans are now well above 5%… And they're quickly closing in on 6%. As you can see in the following chart, these loans are going bad faster than they did during the 2008-2009 financial crisis…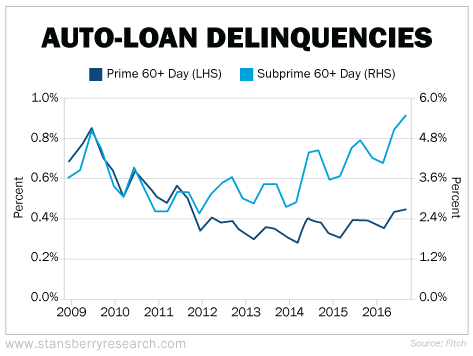 This is no coincidence…
Subprime lending stimulated the latest boom in auto sales. Auto lenders – including the financing arms of the "Big Three" U.S. automakers themselves – pulled out all the stops to keep the party going…
They extended financing terms as far out as 96 months – eight years! – and they've pushed deeper and deeper into subprime territory, offering cars to folks with worse and worse credit.
But now, lenders are suddenly pulling back. As the Wall Street Journal reported this week…
Wells Fargo, one of the largest U.S. auto lenders, last month reported a 29% fall in its auto loan originations for the first quarter from a year earlier. The decline, the biggest for the San Francisco-based bank in at least five years, was part of a common refrain in quarterly announcements from lenders including JPMorgan Chase, Ally Financial, and Santander Consumer USA.
Bankers' caution is increasingly showing up in car sales, which Tuesday came in worse than expected for April. The declines are mostly occurring in lending to riskier borrowers, in particular those with low credit scores, where lending had ramped up for years…
Some banks, including regionals Fifth Third Bancorp and Citizens Financial Group, are beginning to retreat from higher-quality "prime" auto loans as new risks emerge. "It's been an overheated sector," said Fifth Third Chief Executive Greg Carmichael. "The auto business just isn't as attractive right now."
In other words, lenders are beginning to tighten credit in response to rising stress in subprime auto loans. And this is already causing a dramatic decline in auto sales.
But this trend is far from over. As Porter and his team explained in the February issue of Stansberry's Big Trade…
The data are clear… We've had a spectacular auto-lending and leasing boom. Fewer and fewer people are paying cash for cars anymore. Today, about 80% of new cars are either financed at the dealership or leased. That's up from roughly 60% 10 years ago.
And as you might expect, this surge in auto lending and leasing has fueled a car-buying bonanza. New-car and light-truck sales are running at around 17.5 million vehicles a year in the U.S. During the last recession in 2009, that rate had dropped to around 10 million.
All of this lending and leasing activity – aided by low interest rates – has played a big role in the dramatic auto-industry recovery since the credit crisis.
But there's a problem… The U.S. car market has always been highly cyclical. As you can see in the chart below, the auto industry regularly jumps between sales booms of more than 15 million and busts of less than 11 million.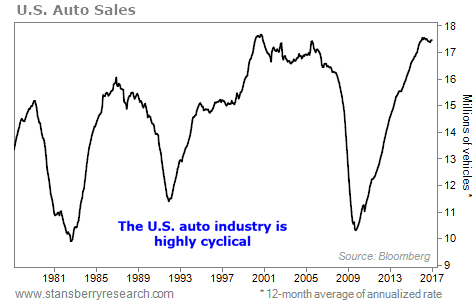 The auto-lending and leasing boom over the past few years has set the auto industry up for yet another bust.
In the meantime, on the other side of the world, Steve Sjuggerud sees an unusual opportunity for investors today…
"The upside potential is dramatically greater than buying stocks in 2009 or buying real estate in 2011," Steve told our readers during an emergency briefing Wednesday.
Of course, if you joined us for the live event, you know he was referring to Chinese stocks. And if you know anything about Steve, you know he doesn't make statements like that often…
After all, he called the 2009 bottom in U.S. stocks almost perfectly. He even borrowed money – for the first and only time in his life, via a home-equity loan – to buy stocks. Then in 2011, he turned bullish on real estate, telling readers it was "the best time in history to buy a house."
Each of these situations were what Steve calls a "fat pitch"… an opportunity where the odds are stacked so heavily in your favor, it's simply too good to pass up. And readers who took his advice have done incredibly well…
The broad market – as represented by the benchmark S&P 500 Index – has more than tripled since Steve's 2009 call, while many individual stocks have done far better. And median U.S. home prices have risen nearly 50% since 2011 to a new all-time high.
Yet Steve says the opportunity in Chinese stocks today is more certain – and has substantially higher upside potential – than either of those previous examples.
Why? In short, a "perfect storm" of sorts has come together…
China is the world's second-largest economy and the world's second-largest stock market… yet virtually no one is invested today. To borrow Steve's favorite investment mantra, Chinese stocks are cheap and hated… and they've quietly started an uptrend.
Meanwhile, a once-in-a-lifetime event is guaranteed to cause as much as $1 trillion to flood into Chinese stocks over the next several years. And this catalyst could be coming in a matter of days.
Steve says folks who buy the right Chinese stocks now could easily and safely make five times their money or more over the next few years… And he's practically begging all Stansberry Research subscribers to put at least a little money into this opportunity immediately.
Unfortunately, we're not able to offer a replay of this week's emergency briefing. So if you weren't able to join us, it's too late to see Steve's presentation in full. But it's not too late to take advantage of this incredible opportunity…
For a limited time, you can still get all of Steve's China research and recommendations at a massive discount from the usual subscription cost.
Better yet, Steve is so sure of this opportunity, he's even including an unheard-of guarantee… If his big prediction doesn't happen before the end of your initial subscription term, he'll give you an entire bonus year of his work – valued at $3,000 – absolutely free.
Click here
to take advantage of this special, time-sensitive offer.
Regards,
Justin Brill
Editor's note
: During an emergency briefing this week, Steve did something we hardly ever do… He offered a unique guarantee to anyone who signs up for his
True Wealth China Opportunities
newsletter within the next few days. In short… if his China prediction doesn't pan out, he'll essentially write you a check for $3,000.
Get the details here
.
Source: DailyWealth