My "Melt Up" thesis just changed in a big way…
The Melt Up that's happening in the U.S. is crossing borders. It has officially gone global.
It turns out, the "big idea" in this Melt Up isn't limited to the U.S. And right now, the biggest gains will likely come from outside the country.
Let me explain…
In the U.S., technology stocks are leading the market higher.
This is exactly what happened during the last Melt Up.
First, let's take a broad look. The chart below shows the S&P 500 compared with the Nasdaq Composite Index during the mid-1990s…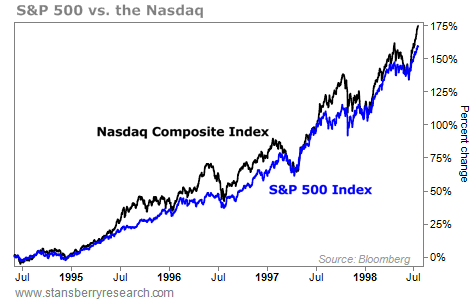 As you can see, these indexes tracked each other almost perfectly for most of the 1990s. Stocks in general rocketed higher, and the S&P 500 and Nasdaq moved in unison.
But that changed in mid-1998.
This, of course, is when the Melt Up began. The Nasdaq began to outperform… and ended up crushing the S&P 500's return over the next 18 months…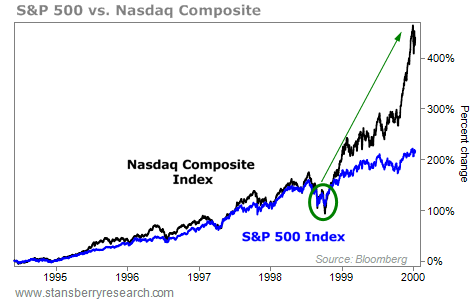 Now, the S&P 500 did fine. Investors in the overall market made money… But the big profits came from the tech-heavy Nasdaq.
And I believe a similar breakaway is starting, right now, in a certain group of international stocks.
This is a group of exciting, high-growth companies… the kind we would expect to soar in a Melt Up.
These stocks have a history of tracking their overall market… just like the Nasdaq tracked the S&P 500 through most of the 1990s. But that has changed recently.
Over the last few months, this exciting group of stocks has dramatically outperformed. Take a look…
This is exactly what things looked like at the end of 1998. The Nasdaq began to outperform… And that move eventually resulted in a 200%-plus gain in around 18 months.
We're seeing a similar setup right now, outside of the U.S. It looks just like what happened during the last Melt Up in the late '90s.
I believe this is the beginning of the "Global Melt Up."
In short, U.S. stocks are soaring to new heights. But the story doesn't end there. A dramatic shift is underway… Right now, the biggest Melt Up gains will likely come from outside the U.S.
That means if you're solely invested in U.S. stocks right now, you'll still do well… But you will likely miss out on the biggest winners.
Good investing,
Steve
P.S. I can't share the exact group of stocks that are leading this breakout – and the coming Global Melt Up. It's a big story, beyond the scope of today's essay… But last night, I gave all the details in my emergency Melt-Up briefing. If you didn't attend, I urge you to listen to the full recording now. You can access it for free
right here
.
Source: DailyWealth