Energy investors are making a big mistake…
They're "bottom fishing" in the major oil and gas stocks… trying to catch the bottom.
This, of course, is a bad idea. Energy stocks have been crashing this year. But expectations are still high.
History tells us this kind of bottom fishing won't end well. The smart move is to wait for a better entry point before getting in.
Let me explain…
Bottom fishing can be hard to avoid… Instead of buying what's going up – what's in an uptrend – investors have a habit of buying what's falling.
It seems like a smart move…
You're buying what's cheap. You're buying what no one else wants. And heck, if you get lucky, you've got a remarkable success story to brag about.
But those success stories are rare… And trying to catch one can be costly.
The old saying is, "Stocks tend to trend."
It means stocks that are rising tend to keep rising. And stocks that are falling tend to keep falling.
What you don't want to do is buy a falling sector and just hope that you've called the bottom correctly. This is great when it works… But it's hard to pull off. And few can do it consistently.
Unfortunately, this is exactly what investors are doing in the energy sector.
Energy stocks are having a terrible 2017. Just take a look at the trend in shares of the benchmark Energy Select Sector SPDR Fund (XLE) this year…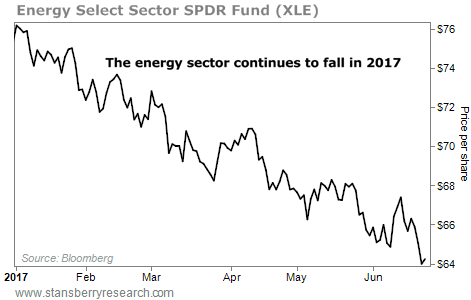 The S&P 500 is up around 10% for the year… But the energy sector (measured by XLE) is down 14%. And it's down 32% from its 2014 high.
You'd think that investors would give up after that kind of performance. Major losses tend to scare folks out of their falling positions. But that's not the case today.
Instead, investors are bottom fishing in the energy sector…
We can see this by looking at XLE's shares outstanding. When investors pile into an exchange-traded fund like XLE, the fund creates new shares. So a rising share count tells us investors are putting money to work in an idea.
In this case, they're piling money into the losing energy sector. Take a look…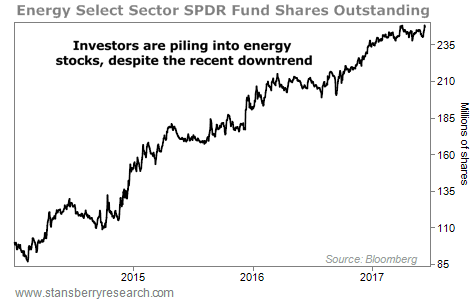 XLE's shares outstanding are up 16% over the last year, and they're up an incredible 166% since the beginning of 2014.
In other words, investors are refusing to give up…
They're trying to call the bottom. And they've been trying for years. But energy stocks keep moving lower.
Now, I'm not making a long-term indictment on the energy sector. We'll likely get a better opportunity down the road. But I want to see investors give up – and an uptrend emerge – before I consider buying.
That's not happening yet. The trend is still down… And investors continue to bottom fish. That makes energy stocks a bad place for new money right now.
Wait until the time is right.
Good investing,
Brett Eversole
Source: DailyWealth