Don't make a big mistake, my friend. Don't chicken out!
I know you want to…
You know that the Dow Jones Industrial Average hit 20,000 last week – a new record high. And that makes you nervous.
You might think, "But it wasn't just the Dow, Steve – ALL the major stock indexes are trading at new highs." I know. And I know that makes you even more nervous.
But should you be scared? No.
Should you sell? No.
I made the exact mistake that you want to make today… only I made it in the late 1990s. I will not make that mistake this time around.
Please, learn from my successes and my mistakes today. You can steal my entire career's worth of learning, and profit from it. I hope you do!
Let me share the last 20 years of my big U.S. stock market calls, good and bad…
My good friend Porter Stansberry summed it up quickly in an e-mail he sent me last week:
Steve, Congrats on Dow 20,000…
I doubt there's anyone else in the entire world of finance that wrote what you did in January 2000 (that the market was in the greatest financial bubble ever and would soon collapse), and then was able to turn around and buy the bottom [in March 2009] with such conviction and ride it back up, all the way to Dow 20,000 (and maybe beyond). Bravo.
Porter is right… That's what I've done. It was kind of him to notice. It has been a good run.
I've been bullish on stocks for this entire decade – basically non-stop since March 2009. And that was exactly the right thing to do. So people think I'm permanently optimistic on stocks.
However, I haven't always been "Mr. Sunshine"… The situation was completely different through most of the 2000s…
In my January 2000 newsletter, I wrote, "We are at the peak of most likely the greatest financial mania that will ever be seen in our lifetimes… and quite possibly the greatest ever witnessed."
I spent the 2000s looking for alternatives to stocks. I got a reputation as the "alternative asset" guy – the opposite of my reputation today! But again, that was exactly the right thing to do.
This next chart tells the story… It shows my True Wealth Value Indicator, which measures the price-to-earnings (P/E) ratio plus short-term interest rates.
You can see I called the top in January 2000 when stocks were at an expensive extreme… And I called the bottom when stocks were at a cheap extreme. Take a look…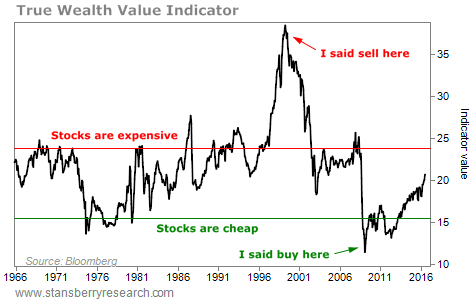 Now take a look again… and see where we are today on this value indicator…
Are we at an extreme? No.
Is it time to get scared? No.
So I've gotten the big picture right since 2000… But what about before then?
That's where I made my big mistake (in my mind, at least). It's the mistake that I don't want you to make this time around…
What was my big mistake in the late 1990s?
I got worried about valuations… And I missed out on the fantastic performance of stocks during the final innings of the stock market boom
.
Take a look at this chart…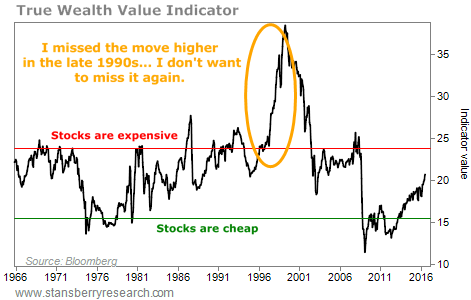 Stock valuations went to record highs. And I got scared. We still did well for our readers, but if I'm honest with myself, I missed the opportunity.
I will not make that mistake this time around. And I hope you won't either.
Over the last 17 years, I've delivered a fantastic record of calling the big picture correctly.
Now we are set up for a situation that's similar to the late 1990s… where stocks can get expensive again.
Are you going to stay on board? Will you pocket the gains of the bull market's final innings?
Or are you going to chicken out?
Me? I plan on riding this market higher… Valuation is not at an extreme. And more importantly, we are nowhere near the levels of optimism or investor participation that are the hallmarks of market peaks.
My mistake was that I put too much weight on stock valuations in the late 1990s… and not enough weight on what investors were actually doing with their money.
I hope you can learn from my mistake… And I hope you will stay on board and boldly capture the upside, while your friends sit on the sidelines.
You will be glad you did!
Good investing,
Steve
Source: DailyWealth