"You don't understand… Every major city in China looks like this," a friend – who has lived in China for decades – told us at dinner in Beijing last month.
All the Americans at the dinner table went quiet. A collective "oh… my… gosh…" went through our heads.
We were stunned – but we knew it was true…
We had just spent a couple days in and around Beijing. We were sitting at Din Tai Fung restaurant – according to the New York Times, it's one of the top 10 gourmet restaurants in the world. Food celebrity Anthony Bourdain said he'd "travel halfway 'round the world to eat dumplings at Din Tai Fung."
We'd walked 200 yards from our hotel to the restaurant – past Tesla car-charging stations, ultra-modern high-rises, and perfectly manicured streets.
Honestly, it felt like we'd stepped into the future. This was Communist China?
We'd already decided that Beijing was the most modern city any of us had ever experienced…
Where else can you buy a bottle of wine out of a vending machine… with just your mobile phone?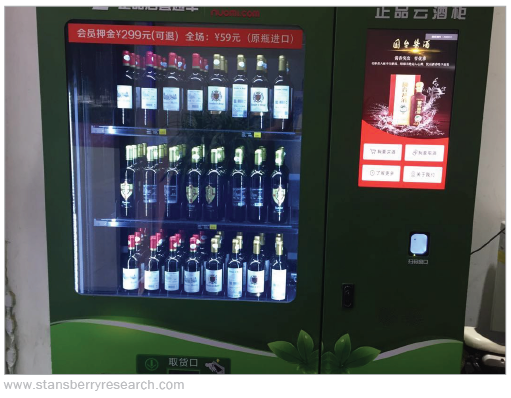 That's real. Payment via mobile phone is all this vending machine accepts. Cash and credit cards are no good.
This is the reality in Beijing. Life there is as futuristic as it gets.
Can all the major cities in China be even close to this?
Our dinner host – an American-born Chinese executive who has lived in China for decades – said yes. And I can personally confirm it's true of Shanghai and Shenzhen.
The thing is, the perception about China is different from the reality…
I'm fully aware of the criticisms of China… We get them in our inbox every day.
China's factories have "deplorable working conditions," a subscriber wrote to tell us recently. And he said that we were only taken to "places that we're allowed to see."
His views might represent the average American's views on China… But what is this, 1990?
I'm certain this subscriber has never been to China.
Saying that we were "only taken to places that we're allowed to see" is laughable. Nobody stopped me from going anywhere in Beijing… It's like being in a big city anywhere, but more modern. Being in Beijing feels like being in New York City. But cleaner. And safer. And more futuristic.
And the factories? Again, what is this, 1990?
Buying an apartment in Beijing will cost you more than $1 million today. It will cost you even more in Shanghai… and even more than that in Hong Kong. (These aren't fancy apartments with great views, either – the real estate is just that expensive.)
Think about it… With a cost of living like that, China can no longer possibly be the low-cost manufacturing hub of the world.
China's days of being the "sweatshop of the world" are over…
These massive differences between reality and perception are part of the reason I'm so bullish on Chinese stocks right now. They create a massive investing opportunity.
When the huge difference between reality and perception goes away, the potential for huge gains will disappear, too.
Said another way… when investors are excited about China, the end will be near.
That's not happening now. The general investing public is still dead wrong about China. And that means the upside potential is still great.
Good investing,
Steve
Editor's note
: Steve has found a futuristic company with its hands on a new Internet breakthrough. Most people have never heard of it, and early investors will be rewarded as this firm soon becomes a household name. You can watch a rare three-minute clip of this app in action by
clicking here
.
Source: DailyWealth