The Weekend Edition is pulled from the daily Stansberry Digest. The Digest comes free with a subscription to any of our premium products.
The 2017 Stansberry Las Vegas Conference is in the books…
As Brett Eversole wrote in
yesterday's DailyWealth
, Kevin O'Leary – one of the "sharks" on the hit television show
Shark Tank
– kicked things off as the keynote speaker Wednesday.
Up next was Porter…
His presentation offered a behind-the-scenes look at the latest developments at Stansberry Research, including a review of several new publications and acquisitions.
Most notably, Porter introduced a brand-new project designed to address the two biggest problems and complaints we hear from our subscribers…
| | |
| --- | --- |
| 1. | They don't have enough time to follow everything we publish, so they're constantly missing out on great opportunities, and… |
| | |
| --- | --- |
| 2. | They have too many positions and can't follow them all closely enough. |
As Porter explained, he has dreamed for many years of offering our subscribers a simple, easy-to-use computer "terminal" that would allow you to easily access and manage all the financial research you receive.
Professional investors use a Bloomberg Terminal for this purpose. But access to a Bloomberg Terminal costs $25,000 per year and requires specialized hardware. And it's notoriously difficult to use. It simply isn't a realistic option for most folks.
Porter's idea was to create something similar for individual investors…
It would be a computer application. It wouldn't require any special hardware or training to use. And it would offer access to the same kind of news and fundamental data – as well access to all your newsletter subscriptions and TradeStops – at a fraction of the cost.
We're pleased to announce it is no longer a dream.
This week, Porter introduced the Stansberry Terminal for the first time…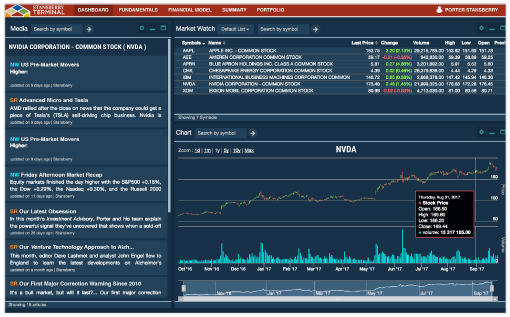 A sneak peek at the Stansberry Terminal.
As Porter explained, the ultimate goal with the Stansberry Terminal is to not only allow you to access all of our research easily and conveniently… but also to allow you to use all of the proprietary screens and models we've built, so you can find your own ideas, too.
Imagine being able to research, buy, and monitor all your investments… easily, simply, and all in one place. That is what the Stansberry Terminal is being designed to do.
We're planning to begin "beta" testing by the end of this year… And we hope to launch the Stansberry Terminal to the public in the first half of 2018.
Stay tuned for more information soon.
Meanwhile, during his presentation at the conference, Steve Sjuggerud promised to reveal big news about his "Melt Up" thesis. He did not disappoint…
Steve reviewed his thesis to date, including an update on several of the market's "vital signs" he has been tracking. These include the advance/decline line, the S&P 500 Equal Weight Index, the small-cap Russell 2000 Index, financial stocks, and the Dow Jones Transportation Average, among others. Steve also introduced two new indicators that have predicted practically every major stock market top in history.
Steve noted that all of these indicators continue to give the "all clear" today. In fact, small caps, financials, and the Dow Transports each broke out to fresh all-time highs this week. This is an incredibly bullish sign.
And while it wouldn't be fair to conference attendees to share all the details yet, we can tell you that Steve's latest research suggests the Melt Up will continue even longer than he originally believed. And this means the gains could be even bigger, too.
In short, Steve believes the end of this bull market is coming… But we're not there yet. If you aren't already positioned to profit from the Melt Up, it's not too late.
Steve also shared his absolute favorite Melt Up opportunity today. He says it has more than 50% upside even if he's wrong… And it could absolutely soar if the rally continues.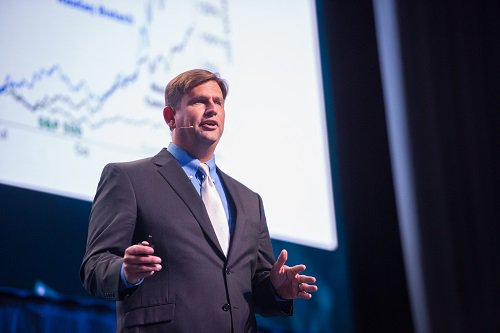 Steve Sjuggerud offers an update on the Melt Up.
Of course, we saw many other great presentations at the Stansberry Conference, too…
We heard from folks like Marty Fridson – the "dean" of high-yield debt – who shared his latest thoughts on the junk-bond market…
Grant Williams – publisher of Things That Make You Go Hmmm, one of the most widely read financial publications in the world – who explained why "this time is not different"…
Cullen Roche – founder of the Pragmatic Capitalism blog – who presented a contrarian view of U.S. Treasury bonds you've likely never heard before…
And many more.
One of the biggest benefits of the annual Stansberry Conference is getting to hear exclusive investment ideas like these before anyone else. And even though this year's event has ended, you don't have to miss out on all the information that was shared…
You can still get immediate access to high-definition video of all of this year's great speakers, presentations, and ideas via our online "All-Access Pass." And you can watch and re-watch these presentations whenever, wherever, and as often as you'd like until December 31.
Click here to sign up now
.
Regards,
Justin Brill
Editor's note
: Did you miss the annual Stansberry Conference in Las Vegas? Don't worry… It's not too late to access all of the best ideas and insights from the two-day event instantly on your computer… from the comfort of your own home. For a fraction of what it cost to attend in person, you can watch every single presentation today.
Learn more here
.
Source: DailyWealth