Editor's note: Our offices will be closed on Monday in observance of Presidents' Day. Look for the next edition of DailyWealth on Tuesday after the Weekend Edition. Enjoy the holiday.
Welcome to 2018. Pull up a chair and stay a while.
We all have the same questions: What awaits us this year? What dangers lie ahead? What opportunities? What should we do next?
Before we get to my answers, I have a parable to share. It will help get you in the right frame of mind…
I first read this in a book by Alan Watts, who was a popular speaker and writer – mainly on Eastern wisdom as found in Zen, Buddhism, Taoism, etc. Below is my rendition of the story.
The parable is about a farmer. One day, he forgets to latch the barn door and his horse escapes.
"That's bad news," his neighbors tell him.
But the farmer is more circumspect. "Maybe," he says.
The next day, the horse returns… with several other wild horses as well.
"Wow, that's great," the neighbors say.
"Maybe," says the farmer.
The next day, the farmer's son breaks his leg after being thrown by one of the new horses.
"That's rotten luck," the neighbors say.
"Maybe," says the farmer.
The next day, a war begins. Men come to the village to draft soldiers. The farmer's injured son does not have to go.
"What good luck," the neighbors say.
"Maybe," says the farmer.
You get the point of the story… You can never really be sure how things will turn out. Bad news may, in fact, lead to a good outcome down the road. And vice versa.
The market provides abundant examples of the parable in action.
I remember a point early last year when one of our recommendations, Rolls-Royce (RYCEY), fell sharply after a "bad" earnings report. More than one reader wrote to me with worried thoughts. My team and I said to buy.
Since that drop, the stock is up around 40%…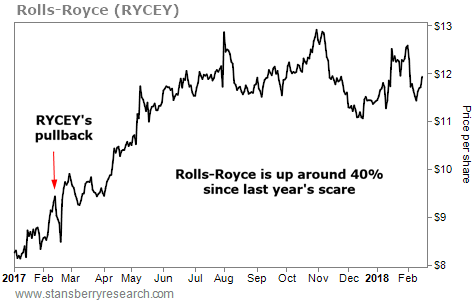 Or consider a counterexample: U.S. stocks, by and large, had a great year in 2017. The S&P 500 Index – a broad index of large U.S. companies – delivered a 22% return.
Good, right?
Well, maybe.
For one thing, it has been hard to find bargains in the U.S. stock market. Valuations look rich for many stocks. After a nine-year bull market, the risk of buying something expensive and suffering poor returns – or losses – is higher now.
And time will tell if the generous gains of last year will stick… or whether they merely set the stage for a difficult 2018. Less than two months in, we've already seen big waves in the market.
Thus, the parable nudges you to take the happenings of life with equanimity. You never really know how things will turn out.
So again, what awaits us this year? What dangers lie ahead? What opportunities? What should we do next?
Like the farmer in the story, we will deal with the year as it unfolds day by day. It's better to live in the present. Only the present is "real."
Most people spend too much time and energy trying in vain to predict the stock market. They worry incessantly over imagined problems. I suggest a different approach: Focus on the businesses you own and how they can create wealth over time.
A business is like an organism, or perhaps a machine. You can understand how it works. And you can use this understanding to gain a real edge over the rest of the market. This is what we should focus on.
And for now, keep a good amount of cash in your portfolio. You'll likely get chances to put that money to work. Last year was the only one on record in which the S&P 500 recorded a gain every single month. It is unlikely to repeat… hence the value of dry powder.
Regards,
Chris Mayer
Editor's note
: If you've been concerned about the market… wondering if you should sell your stocks and sit on the sidelines… Chris has an important message for you. It's about an investment method he has spent three years and $138,545 developing – a blueprint you can use to potentially make 10 times your money.
Click here to learn more
.
Source: DailyWealth