The Weekend Edition is pulled from the daily Stansberry Digest. The Digest comes free with a subscription to any of our premium products.
The stealth rally in Europe continues…
You may not have noticed, but European stocks – as represented by the STOXX Europe 600 Index – broke out to a new 52-week high earlier this month.
On February 13, the broad index closed at more than 370 for the first time since December 2015… And it has remained around that level over the past two weeks. On Thursday, it closed at 372.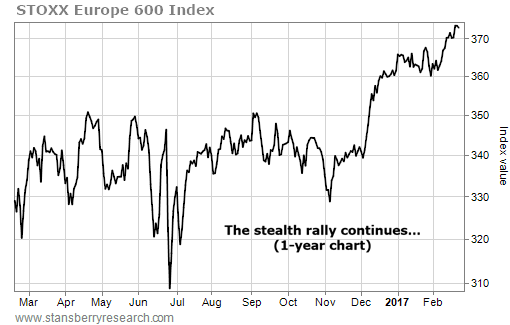 Our colleague Steve Sjuggerud believes further gains are likely…
Steve recently turned bullish on European stocks for the first time in years. They meet all three of his favorite investment criteria: They're cheap, they're hated, and they've started a new uptrend.
Of course, nothing in the market is guaranteed. But the latest data support his bullish thesis…
This week, market-data firm IHS Markit reported that eurozone business activity soared in February.
The firm's flash composite index of services and manufacturing jumped to a better-than-expected 56 this month. That's up from 54.4 in January, and its highest level in nearly six years. (Like many similar measures, readings above 50 indicate growth, while those below 50 indicate contraction.)
The individual measures for both Germany and France – Europe's two biggest economies – came in well above expectations, too. As IHS Markit Chief Business Economist Chris Williamson noted in the accompanying release…
Job creation was the best seen for nine and a half years, order book growth picked up and business optimism moved higher, all boding well for the recovery to maintain strong momentum in coming months…
The big surprise was France, where the PMI inched above that of Germany for the first time since August 2012. Both countries look to be growing at rates equivalent to 0.6%-0.7% in the first quarter.
France's revival represents a much-needed broadening out of the region's recovery and bodes well for the eurozone's upturn to become more self-sustaining.
However, a great deal of uncertainty still lies ahead…
France's upcoming elections, in particular, promise to create volatility on par with last year's "Brexit" vote or the U.S. presidential election.
But after years of short-lived rallies based on little more than hope and central-bank stimulus, we're finally seeing signs that the European economy is improving. And that could be a massive tailwind for European stocks.
Meanwhile, here in the U.S., we could soon see another bullish signal… one that has never been wrong over more than 70 years…
The benchmark S&P 500 rose 1.8% in January, and is up roughly 3.5% so far this month. According to equity-research firm CFRA, this could bode incredibly well for the rest of the year…
The company notes that stocks have risen in both January and February just 27 times since 1945. And in every one of those years – 27 out of 27 times – the market has ended the year in green, for an average total return of 24%. That's an impressive streak.
Of course, nothing can guarantee that streak will continue… And as always, we would never recommend making investment decisions based on any one indicator alone.
But history strongly suggests that the bull market in U.S. stocks has further to run.
However, history is far less bullish about bonds…
The recent rally in stocks has been accompanied by a tightening in credit spreads – the difference in yield between U.S. corporate debt and U.S. Treasurys – but also a decline in real interest rates.
According to strategists at Bank of America Merrill Lynch, stocks and credit spreads are reflecting optimism about the economic growth and corporate fundamentals, yet falling real rates are reflecting the opposite. As Bloomberg reported this week, this is unusual…
The last time we saw this confluence of events was right before bond-market routs in 2013 and 2015, the so-called taper tantrum and bund tantrum.
The S&P 500 Index surged Tuesday to reach the average year-end target of Wall Street analysts with a 5.5% gain since December. The extra yield investors demand to hold corporate bonds instead of Treasurys is near the lowest in two years, and the yield on five-year inflation protected Treasurys has dipped back into negative territory…
Eventually this disconnect "becomes wide enough to trigger a real rate catch-up," strategists Shyam Rajan and Carol Zhang wrote in a note Feb. 17. "History offers a compelling reason to be cautious on duration after recent market moves."
In other words, history suggests real interest rates could quickly move higher from here… Meaning longer-duration debt (like long-dated U.S. Treasury bonds) could plunge.
One last note before we sign off…
We officially launched our brand-new small-cap research service – Stansberry Venture Value – during a live event earlier this month.
If you were there, you know why Porter is so excited about this project: It could become the most profitable research we've ever published.
We believe subscribers could easily see total long-term returns of 1,000% or more… in regular, "plain vanilla" stocks… and without taking big risks, using leverage, or trading options. There is no simpler, safer, or easier way to make a fortune in the stock market.
Folks who took advantage of our charter offer to join Venture Value have already received our first three recommendations. But if you've been "on the fence" about joining us, it's not too late. All three of these recommendations remain within "buy" range for now.
In other words, you haven't missed anything… yet. But we can't say how long these opportunities will last.
Click here
to learn more about
Stansberry Venture Value
. (You won't have to sit through a long promotional video.)
Regards,
Justin Brill
Editor's note: If you missed our live webinar on Porter's "10x Project" earlier this month, you're in luck. He has agreed to post all the details of his research online for a limited time. This is your chance to get all the same information without "reserving a seat"… showing up at a special time… or anything like that. Find out how you can get started right here.
Source: DailyWealth