Everything is up!
Stocks, bonds, gold, property… they're all up. Investors love 'em all.
That's good for our net worth… But what does it mean for new investments?
Longtime readers know I like to find hated investments – that's where the biggest returns come from. So what's hated today?
This investment had fallen for years… It had actually fallen in half from its 2007 highs to its lows in 2012. Investors had given up. That's when we bought it. And this investment soared nearly 40% in 2013.
Let me explain…
Today, a similar thing has happened… This investment lost 38% of its value from its 2015 highs to its 2016 lows. That's nearly identical to what we saw at the end of 2012, before the massive profits kicked in…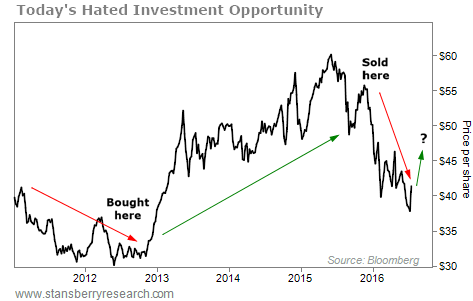 But most important to me, investors have given up again… This investment is hated.
How do I know investors have given up?
I look at the shares outstanding for this investment, which is an exchange-traded fund (ETF)…
You can see in the chart below that, in 2011 and 2012, the number of shares outstanding of this investment consistently went down… which means that investors were continually getting out.
They were throwing in the towel… And that's what I like to see. You can see that a decrease in shares outstanding is happening now, too… Investors have been steadily giving up on this investment.
Take a look…
We recommended buying shares in late 2012. It was exactly the right thing to do. We took profits of 60%-plus in 2015.
The same type of setup we saw in late 2012 is happening now…
Once we start to see a solid uptrend, this is an investing idea that I will seriously consider. The ingredients are there.
So what is this investment? It's the WisdomTree Japan Hedged Equity Fund (DXJ).
I haven't been to Japan in a few years. Japan's investment prospects haven't been on my radar this year… But with these near-perfect setup conditions, they are now.
Based on how DXJ performed the last time we saw these setup conditions, it should be on your radar, too.
Good investing,
Steve
Source: DailyWealth