In 2014, oil prices crashed.
They fell a staggering 58% in seven months, from $107 a barrel all the way to $45.
Could you have seen it coming? Was there a warning sign? Yes!
One indicator we track predicted the crash in oil prices. And now, for the first time since 2014, this warning sign is flashing again…
When this signal hits a new record and starts to fall, the price of oil goes down as well…
Last time, that's exactly what happened. The warning sign peaked in late June 2014. At nearly that exact moment, oil hit a high over $107 per barrel… Then it crashed to $45 over the next seven months.
So what is this warning sign?
It's the actions of "large speculators" trading oil on the futures markets. Tracking what they do is important – but only at extremes.
You see, when these large speculators are placing a record number of bets, the market they're betting on is often near its peak.
Take a look at the chart below. In 2014, large speculators were betting on higher oil prices. It was an all-time record in optimism – by far. So in hindsight, it's no surprise that the price of oil crashed dramatically after such a huge extreme…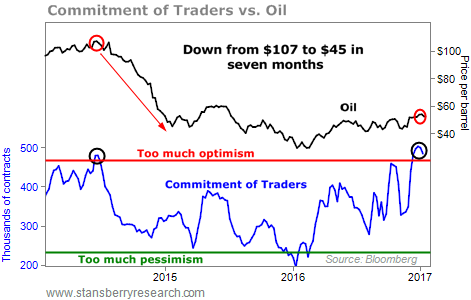 Notice that I said it "was" an all-time record. I said "was" because the oil warning sign hit a NEW all-time record near the end of 2016. Large speculators have literally never been this optimistic about oil prices.
You can see what happened next… Oil hit a new 12-month high at the same time. And the price of oil has since turned down.
This is just one indicator… But the last time around, it was prophetic in predicting the oil-price fall.
Why does this indicator work so well? It works because it shows you when everyone who wants to buy has already bought…
It's simple math. For a market to go higher, you need more buyers than sellers. When the buyers dry up, the price is in trouble.
And that's where we are today, based on this warning sign.
I can't give you any special insights into oil itself, or the latest OPEC deal. Oil prices could go up for any number of reasons.
But I don't want to debate those. I want you to be aware that a powerful warning sign is flashing right now…
Large speculators are literally more optimistic about the price of oil than they have been – EVER.
Based on this fact alone, I would not speculate on a higher price of oil.
You may feel strongly that oil prices will go higher in the long run. That's fine. However, you should trade carefully, based on this warning sign.
Until these large speculators get washed out – which might only take a couple months – I strongly recommend limiting your bets on rising oil prices.
Good investing,
Steve
Editor's note
: If you're betting on higher oil prices, you're simply gambling right now. If you'd rather take all of the guesswork out of investing, we've designed a new program to help you expertly allocate your entire portfolio.
Click here to learn more
.
Source: DailyWealth