The last time we saw today's setup, one group of stocks more than doubled in four years and left U.S. stocks in the dust…
It has nothing to do with China. And it might surprise you…
European stocks are now dirt-cheap compared with their U.S. counterparts.
Based on history, that means we could see an incredible scenario… European stocks could significantly outperform the overall U.S. market during the next four years.
Don't get me wrong… I am still bullish on U.S. stocks over the next 12 to 18 months. I think they will absolutely soar, thanks to the last explosive phase in this bull market, which I've called the "Melt Up." But Europe could do even better.
Let me share the details…
U.S. stocks crushed European stocks in 2016… The S&P 500 Index soared 12%, while the STOXX Europe 600 Index actually fell 1%.
The U.S. market has been outperforming Europe like this for years. But this outperformance might finally be coming to an end… even as the Melt Up gets going.
You see, U.S. stocks are expensive compared with European stocks today. The chart below shows the premium of the U.S. market versus Europe, based on the price-to-book value ratio.
It's coming off the highest level we've seen in years. Take a look…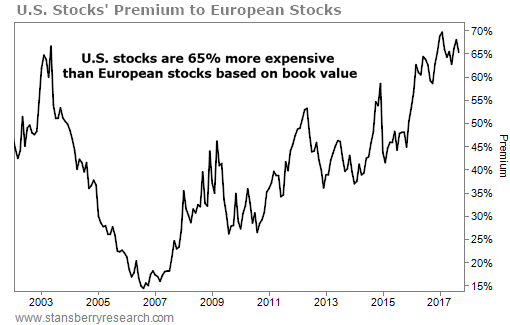 The U.S. market is roughly 65% more expensive than Europe right now. That's a massive premium. As you can see above, the last time U.S. stocks were this expensive relative to the U.S. was in 2003.
Surprisingly, that wasn't a bad time to own U.S. stocks… Just because they were more expensive than Europe didn't mean they were set to crash.
In fact, that year turned out to be a great time to own both the U.S. and Europe. U.S. stocks did well from 2003 to 2007… But European stocks absolutely crushed the returns we saw in the U.S. Take a look…
Total Returns

Year

European Stocks

U.S. Stocks

2004

21.8%

10.9%

2005

11.3%

4.9%

2006

35.7%

15.8%

2007

13.8%

5.6%
U.S. stocks jumped a total of 42% over this four-year stretch… But European stocks more than doubled.
We could be at the beginning of a similar trend… a multiyear move higher in the U.S. and Europe… with European stocks dramatically outperforming. It's already starting this year…
European stocks are up 24.4% this year, while U.S. stocks are up only 16.3%.
Again, don't get me wrong here. I expect the gains in the U.S. to continue…
The Melt Up should help push the overall U.S. market higher. And certain sectors will absolutely soar – potentially hundreds of percent.
But on the whole, European stocks could outperform during the next few years or so. They're dirt-cheap compared with the U.S. And they doubled in four years the last time we saw an opportunity like today… a massive 100% gain.
If you're interested in owning Europe, the simplest way to do it is through the SPDR EURO STOXX 50 Fund (FEZ).
FEZ holds a basket of Europe's largest blue-chip companies. And while the U.S. will likely soar in the years to come, European stocks – and shares of FEZ – could do even better…
Good investing,
Steve
P.S. Today looks like a perfect time to own both U.S. and European stocks – just like it was in 2003. So when you make this trade, don't forget about the Melt Up… It could be your last chance to see truly explosive gains in the U.S. market. And if you make the right moves now, you could earn an absolute fortune before it's all over.
Click here to learn more
.
Source: DailyWealth