Last week, I held an urgent webinar event to talk about how you could potentially make 100% gains in the next 12 months during the "Melt Up."
The Melt Up ideas I've been presenting are certainly high-risk – but they have the potential for big returns.
When I finished my presentation, I answered listeners' questions live on-air.
While most of the questions pertained to the Melt Up, one listener asked a question about gold.
"Steve, how can you own gold, but not gold stocks?" the listener asked.
It's a good question. The answer is simple… But I don't think most people want to hear it (or they don't want to believe it).
Here's what you need to know…
Most people believe that gold stocks are a leveraged way to play gold. If gold prices go up, people think that speculative gold stocks should go up a lot more.
This is often true, but not always…
Sometimes, even when gold goes up, speculative gold stocks don't do what you expect them to do. Sometimes, gold stocks actually DON'T soar more than gold itself.
We're seeing that right now.
Gold itself has gone up a lot this year. But gold stocks have not held up their part of the bargain. Instead of dramatically outperforming gold this year, speculative gold stocks have dramatically underperformed the price of gold.
Gold has soared about 13% – from about $1,150 to about $1,300. But speculative gold stocks – as measured by the VanEck Vectors Junior Gold Miners Fund (GDXJ) – are roughly flat this year. Take a look at this one-year chart…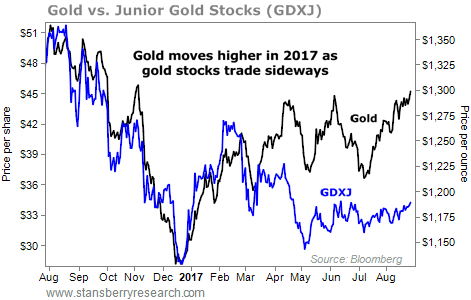 As you can see, in the first half of this chart, gold and speculative gold stocks tracked each other's performance – down in the second half of 2016, then up in the beginning of 2017.
Then they diverged…
Now, gold is sitting at a new high for this year. And GDXJ is basically flat for the year.
Said another way, gold is in a solid uptrend. We can't say the same for GDXJ… yet.
It's hard to make a compelling case that we're in the start of an uptrend… If you are determined to make a trade in gold stocks, I can suggest a low-risk, high-return trade for you to put on today…
Let me be straight with you… I am not bold enough to take this setup – yet. But it's getting pretty darn close. It's a "good" setup in gold stocks… not great, but good…
If you're bold enough… and IF you are willing to follow your exit strategy, you could do pretty darn well on this trade.
So yes, I own gold. But no, I do not own gold stocks.
I'm getting closer… But I'm not there yet.
Good investing,
Steve
P.S. Last week, I revealed a hand-picked portfolio of nine recommendations that should absolutely soar as the Melt Up continues. I believe this entire portfolio will rise 100% or more within the next 12 months. In fact, I'm so confident about it that I'm making one of the most outrageous offers in Stansberry Research's 18-year history.
Get the details here
.
Source: DailyWealth