The Weekend Edition is pulled from the daily Stansberry Digest. The Digest comes free with a subscription to any of our premium products.
It took nearly 10 years, but it finally happened…
According to a new report from the Federal Reserve Bank of New York, Americans have now borrowed more money than at any time in history.
The report showed that total household debt rose $149 billion in the first quarter of 2017 to $12.73 trillion. As you can see below, this has officially surpassed the previous all-time record of $12.68 trillion, set just before the financial crisis in 2008…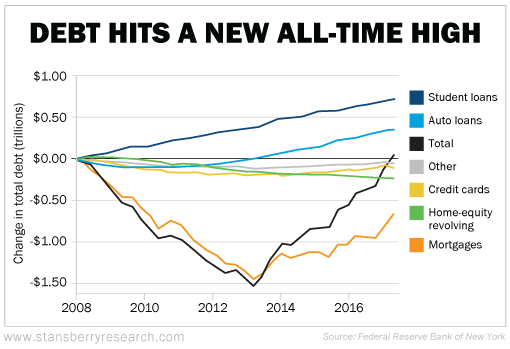 Auto loans rose to a record $1.17 trillion, while student-loan debt now sits at a mind-boggling $1.34 trillion. Meanwhile,
credit-card debt
is quietly closing in on a new record, too.
While the new record doesn't mean another crisis is imminent, it is a troubling sign…
As Heather Boushey, executive director and chief economist at the Washington Center for Equitable Growth, told the New York Times…
This is not a marker we should be super excited to get back to… In the abstract, more debt signals optimism. But in reality, families are using debt as a mechanism to pay for things their incomes don't support.
To be fair, total household debt represents a smaller percentage of the U.S. economy today. It was just 67% of gross domestic product ("GDP") at the end of the first quarter, compared to nearly 85% of GDP in the third quarter of 2008.
But this is largely because mortgage debt remains well below its previous bubble peak. Set aside mortgages, and consumer debt has risen to an all-time record of nearly 22% of GDP.
Of course, the next crisis won't be driven by mortgage defaults…
Rather, it's likely to be skyrocketing defaults in these other types of debt where subprime lending has soared this time around (to say nothing about trillions of dollars in potential losses in corporate debt).
In the meantime, the New York Fed noted delinquency rates for most consumer debt continued to tick higher. Last quarter, credit cards took the lead… The report showed 7.5% of credit-card debt is now "seriously delinquent" – at least 90 days late – up from 7.1% at the end of last year.
We believe this trend is just getting started.
Elsewhere, another of Steve Sjuggerud's predictions appears to be playing out…
Longtime
DailyWealth
readers know Steve was one of the first analysts anywhere to
turn bullish on housing
nearly eight years ago. And he has remained bullish as prices have rebounded to new highs.
Early last month, Steve
updated his thoughts on the housing market
. Steve told his subscribers we were in the "sixth inning" of the housing boom. The final – and potentially most explosive – innings were still ahead.
In particular, Steve noted that despite the big increase in recent years, prices still had room to go much higher. This is because housing inventories – the supply of homes available to buy – have plunged to almost the lowest levels on record.
And as he told readers, as long as more people were searching for homes than there were homes to buy, prices would keep rising.
"It's freaking us out…"
According to Glenn Kelman, CEO of real estate data firm Redfin, that's exactly what's happening. As financial-news site CNBC reported this week…
"The inventory is reaching historic lows. It's never declined faster than it did last month. It's freaking us out — it's affecting our business; it's limiting our sales," said [Kelman]. "We're going to be fine in terms of market share, but I think the overall industry for the first time is seeing sales volume really limited by the inventory crunch."
Homes in April sold the fastest since Redfin began tracking the market in 2010. The typical home went under contract in just 40 days, 10 days faster than April 2016. As a result, one in four homes sold above their list price, which is the highest percentage Redfin has recorded…
Inventory of homes for sale fell about 7% nationally in March, compared with a year ago, according to the National Association of Realtors. Like most, Kelman blames the problem on a lack of new construction. On the single-family side, homebuilders are still putting up 18% fewer homes than the 25-year average.
Finally, an answer to a question you've probably been asking…
We know many readers are confused and upset by the apparent contradiction: How can we warn about the growing risks in the consumer- and corporate-debt markets… and still continue to recommend stocks?
If you're among them, we invite you to join us for a special online event next Wednesday night, May 24, where we'll clear everything up. Folks who attend this free event will learn the answer to this question and more, including…
When this historic bull market will finally end… how to get back in the market today if you've been afraid to do so… how to know exactly when to sell some of our best-performing recommendations… the one thing you must do, whether you agree with Porter, Steve, or Dr. David "Doc" Eifrig… and much more.
Click here for all the details
.
Regards,
Justin Brill
Editor's note
: The benchmark S&P 500 Index is up almost 250% since March 2009… But the good times won't last forever. On Wednesday, Porter will host a free event where he'll point to the day this historic bull market will end… show you how to find and eliminate the hidden risk in your portfolio… and much, much more.
Reserve your spot now
.
Source: DailyWealth